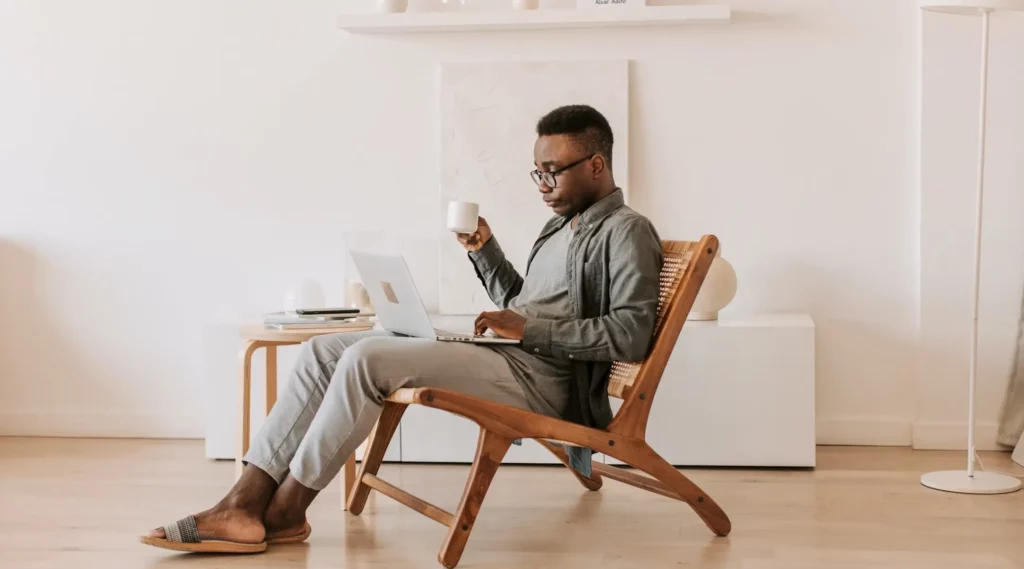 Each one of us at acb has her or his own personal relationship with the internet: Matthi does get the daily inspiration for his job as a graphic designer here; Isa can work from the warm south during the German winter thanks to the net, and for Äinsch the web has become her meeting point for catching up with family and friends since she lives in Costa Rica.
We all belong to the generation that still knows both worlds - the world with and without internet. Maybe because of that we are still fascinated by the unlimited opportunities of our digital era. At the same time, we do acknowledge the controversies that come with it: be it the constant availability that was already a great hell of a deal when the mobile phone was introduced, or the issue of the "transparent human being" that is no longer just an abstract concept but a real prospect which is to become long-desired reality for companies and governments alike and at the same time a nightmare for many private and professional users.
In our new blog series www & me we want to shed some more light on these and many other aspects and find out, what the internet means to you. Of course, we are going to break the first ground and talk about the facets of the web that are important to us and why. In the upcoming weeks and months we will interview friends and people that we like, awesome projects and persons with a very special relationship to the www and have them share their thoughts and opinions on the matter - so stay tuned!


Well here we go - www & acb!
Visualize your internet (photo, drawing, mindmap etc.)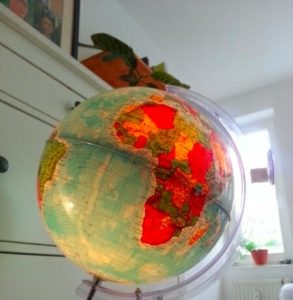 Isa: The internet is a little like my old globe - compact and easily accesible, but at the same time it doesn't replace travelling ;-)
Äinsch: In a way, the web has mutated to be my hood which i do not have in the same way any more here in the jungle. It's the place where i can hang out for ours with friends and family with smoothies or wine on Skype, meet my colleagues for coffee in Google Hangouts, shop gadgets or books that are hard to find in Costa Rica or just read the newspapers of places that I have a special interest in.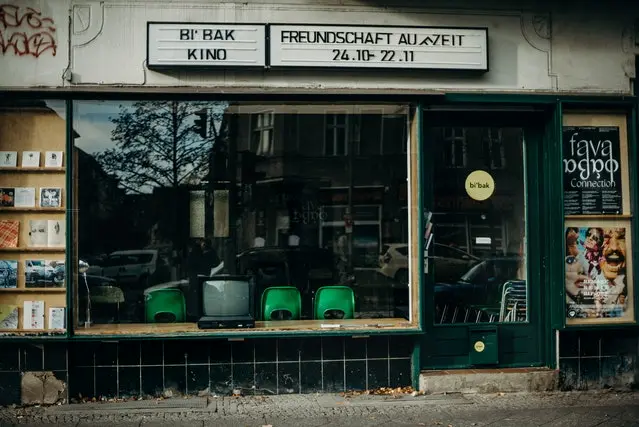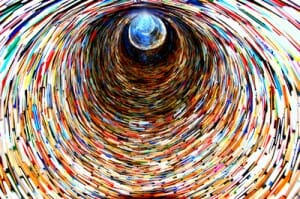 Matthi: It is a like a huge library. I love to read and to know stuff. The internet gives me the possibility to read about virtually everything: about Andromeda while reading a science fiction novel or about a specific person when I am researching political topics.
How long do you spend online every day and why?
Isa: Six hours a day at least which definitely has some disadvantages. But the internet does give me a lot of freedom which i wouldn't have without it, like being able to work from virtually everywhere - be it in a coworking space in Tunesia or at the beach in Fuerteventura.
Äinsch: Way too much time, my friends already call me a cyborg. The thing is, that besides work, a lot of my personal life takes place in this virtual world. I do have a lot of real life happening though as well, thanks to my glassless jungle office just 200 mts. from an amazing Caribbean beach and our little homestay business close to the little village Puerto Viejo.
Matthi: Minimum five hours for sure when I am working throughout the week at least, between emails and keeping in touch with people on social networks now that I am travelling through Australia for quiete a while.


"Always on" – Does the internet give you more freedom or does it make you more dependent?
Isa: I don't get any work-related email on my phone, so yes, it does give me freedom!
Äinsch: I am still struggling to draw my limits and think you need a whole lot of self-discipline and organisation in order to only take advantage of the positive aspects of around-the-clock availability.
Matthi: It always depends on the situation. I do enjoy free time from the internet. But to be able to work from pretty much everywhere is a huge plus.


Have you become more or less social through social media?
Isa: More social because now I can at least keep in touch with my friends all around the world. In general, I do believe that it is the way of communication that is changing, not so much the level of it. Before we used to call eachother various times a day, then we sent text messages all the time and today we just chat on Facebook.
Äinsch: Not more social for sure, it still feels kind of superficial a lot of the time. But at the same time i do appreciate the fact that i can at least virtually participate in a short momentum of a friend's life through a Facebook post instead of having to wait till this person finds the time to send me a personal email - let's face it, we are all far too busy nowadays!
Matthi: In times that I don't feel like going out or meeting friends, I can still easily keep in touch with everybody through social media. And now it is much easier to also touch base with people that live far away from me. I don't have the feeling that it influences my social behaviour in general though.


Your first time on the web?
Isa: That was pretty boring during an internship in a newspaper editorial. I still have the same email address after 15 years though and reading some of my old mails is a little like skipping through my own diary.
Äinsch: I think that was when I started studying at university. In the beginnings, the internet really wasn't all that exciting and pretty as it is today. I still wish I would have taken some screenshots so that I could recall some of the first websites that were around back then.
Matthi: Good question… I think it was in 1997 when I set up my first email address. There really wasn't that much more about the web back then and it wasn't cheap to go online with a dial-up connection from the newly-found German internet provider.


Internet and politics: Democratisation or total surveillance?
Isa: Since the latest re:publica I do think much more about surveillance. There were a lot of interesting speeches and "sexy approaches" in lectures like Let's talk about sex baby, let's talk about PGP. What I learnt? Even though I dislike institutionalized surveillance I can still somehow like Google and Facebook, key word (no) state monopoly on the use of force!
Äinsch: I still manage to just ignore the whole debate in most parts as I feel I would become paralized otherwise. Instead I try to focus on the more positive aspects of the web like wider access to alternative media channels and networks and networking between individuals and groups in general, that also drives change in the "real world".
Matthi: Surveillance is a fact - in the small and in the big picture. I try to be as conscious as possible without getting paranoid. I haven't suffered any direct consequences of surveillance or poor data protection thus far. What I like about the web is that I can read about people that are no famous public figures in politics, academics or the corporate world, which I would never have heard about ten years ago. This is one of the biggest advantages of the internet for me.


Die Zukunft des Internets – wohin geht die Reise für dich?
Isa: Ich glaub immer noch an das Gute im Netz :-) Persönlich versuche ich, als "digitale Nomadin" (um mal dieses Modewort zu benutzen) ein Moment der Nachhaltigkeit mitzudenken – also dass es um mehr geht, als in ein Land mit möglichst niedrigen Lebenshaltungskosten zu reisen und einen möglichst großen CO2-Fussabdruck zu hinterlassen. Ich mag die Idee einer "digital global community".
Äinsch: Mit Google Glasses und Co. hat das alles ja schon extrem futuristische Züge angenommen, intelligente Autos, intelligente Häuser – ganz ehrlich, keine Ahnung wo das noch hinführt ;)
Matthi: Ich empfehle "Look to Windward" von Iain M. Banks. Da wird eine im Großen und Ganzen funktionierende anarchistische, hedonistische Gesellschaft gedacht, in der alles Wissen allen zugänglich ist und von allen genutzt werden kann. Will ich!


Deine Vision einer digitalen Revolution?
Isa: Ich wünsche mir mehr konstruktive (und unüberwachte) Kommunikation und freien Zugang zum Netz, somit auch zu Bildung, Wissen und Kultur – und zwar unabhängig vom Wohnort oder Geldbeutel. Schnelles Internet für alle!
Äinsch: Das Internet nicht nur Plattform von großen Konzernen und gestandenen Internet-Professionals ist, sondern alles noch einfacher wird und auch für Einzelpersonen und Kleinunternehmen überall auf der Welt eine Plattform bietet.
Matthi: Zugang für alle. Also alle 7 Milliarden. Und dann: Lernen! Auch alle! Manche mehr, manche weniger … ;)


www & du: deine Beziehung zum Netz in einem Satz.
Isa: Ich mag es.
Äinsch: A never-ending sailing/surf trip..
Matthi: Wird nie langweilig!