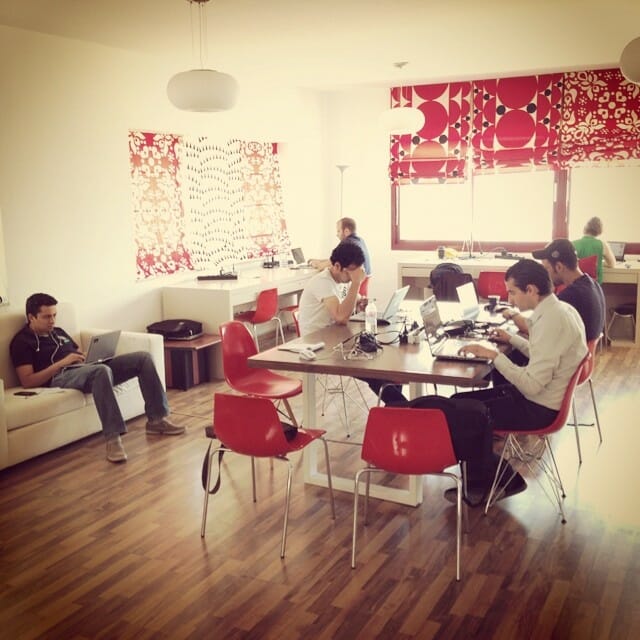 In today's edition of our www & me series, we are talking with the organizers of Cogite, Tunisia's first coworking space. The way people work is rapidly changing: Instead of the impersonal world of cubicles, they desire a workspace where a diversity of skills, goals, and enterprises will allow them to engage in non-competitive collaboration. Isa had the pleasure to work from Cogite for one month this January and found Le lac de Tunis, a natural lagoon between Tunis and the sea, to be the best view from a desk she ever had.
About Cogite
Founded in 2013 by entrepreneurs Rym Baouendi, Zied Mhirsi, and Houssem Aoudi, Cogite represents another installment in the trend towards co-working office spaces around the world. The new digital workforce wants to be near a support network of fellow freelancers and entrepreneurs, sources of inspiration, and the pulse of their selected field. Indeed, the founders of Cogite want their coworking space to do more than simply provide an alternative to a traditional office. They hope to contribute to a transformation of the entire country.
How has Tunisia developed in the last years and how did this affect your coworking space?
"Over the last three years, Tunisia has received significant international attention due its role in the Arab Spring. More – and different kinds of – people have come to Tunisia to work, study, and observe our transition towards a more democratic society. At Cogite, we have been happy to welcome this sort of community and give people in Tunisia the chance to collaborate internationally. From learning about different cultures, sharing lessons learned, and discovering new ideas, we've tried to tap into the spirit of creating a more open Tunisia.
For instance, Cogite hosts TEDxCarthage, a really successful initiative intended to show what is possible in Tunisia and beyond, and to highlight the impact that an individual can have during this critical time in Tunisian history. Since 2010, there have been 6 TEDxCarthage events, bringing together innovators from Tunisia and around the globe. Last December we hosted TEDxCarthageWomen, which was so popular it sold out in four minutes! The event came at a time when many Tunisians were expressing discontent over the slow pace of reform, and we sought to add a "spark" to reignite their optimism. TEDxCarthageWomen highlighted dynamic women from the past and present who were not afraid to take risks and follow their passions in the pursuit of goals and solutions.
With audiences ranging from 1,500 to 2,000 people per event, TEDxCarthage has become one of the largest free speech events in Tunisia. This project, and others being created in the space, all hope to contribute to the emergence of a more innovative public sphere, which will in turn promote more entrepreneurship and change."
TEDxCarthage Video
How much time do you spend on the Internet and does it give you more freedom?
"Cogite is always looking for new resources, opportunities, and connections with innovators from around the world. Therefore we absolutely need the Internet. In fact, we spend half of every day online working on public outreach initiatives, doing research into new programming and employment opportunities, and sharing free educational resources. The Internet has helped us develop a coworking culture in Tunisia and it allows us to communicate with people directly."
Have you become more social through social media?
"Social media allows us to engage directly with different communities, groups, and individuals who want to learn more about coworking and the Tunisian economic ecosystem. It is our first point of contact with many people and helps facilitate connections and professional relationships at the physical Cogite coworking space. We can also use it to disseminate educational resources and job opportunities to a wider audience."
What does the digital revolution mean to you and what do you think the future of the Internet is?
We owe our existence and success to the digital revolution. Without it, we wouldn't be able to establish channels for political, social, and economic discourse in order to inspire and fuel change. We've taken the first step in Tunisia, but one day more organizations and innovators will have access to free educational and business platforms, leading to greater opportunities for creation, engagement, and reform regardless of location, employment status, and education levels.
What is your relationship to the Internet (in one sentence)?
"We use the Internet to educate, share resources, and create networks of information and ideas."
Thanks for the interview!